Last Day Buy 3 Get 5- Leak Proof Protective Panties
Regular price
$24.95
Sale price
$9.90
Save $15.05
/
---
Free Shipping on orders $60+
In stock, ready to ship

Inventory on the way

Description:
🔒Paypal and credit card secure payment.🏪PalPay certified reputable merchant.💵Has paid 100k USD in PayPal as store guarantee
🛒Add any 5 into the shopping cart,Just pay for 3
🛒Add any 10 into the shopping cart,Just pay for 5

Great news, to promote our products, we're selling them for $29.79 , and today at wallacees for just $9.99, with buy 5 get 5 free $55.96 and free shipping, limited to 200 pieces! Don't miss it.
If you don't know the size of your underwear, you can order it by weight. You can also order it according to the size chart.👇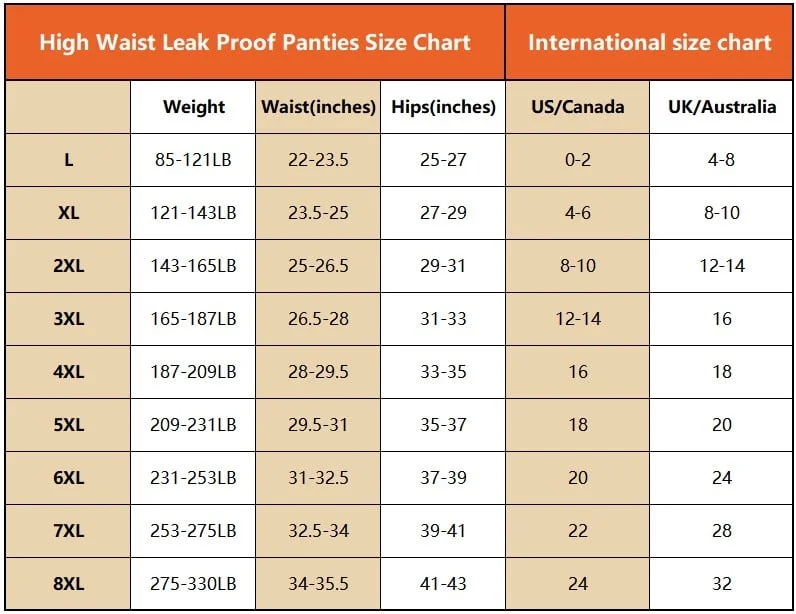 TELL ME -WHY GO LEAK PROOF?
It's simple; there isn't a better undie product on the market that gives you the kind of peace of mind our underwear can give.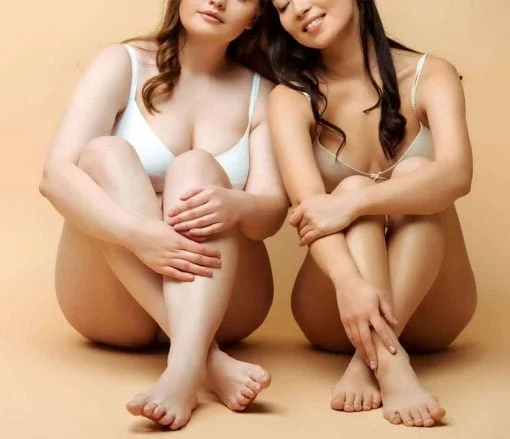 ✅Combat Smells. Feel Fresh and odor-free throughout your period. 
✅Great Backup. Perfect partner to your menstrual cup, tamponsor pads.
✅Environmentally Friendly. Mindfully help to save the planet and save yourself money. 
✅Stay Safe. Not sure when your period will start? Be 100% dryand ready anytime.
✅Prevent Leakage. Whether you're managing incontinence or light bladder leaks (LBL). 
✅Live an Active Lifestyle. Stay dry, confident, and stress-free during sports and workouts.  
Depending on your flow, Our Leakproof Underwear can replace pads, tampons, liners, & cups, or be worn with tampons and cups for extra protection. 
2023 Latest Design, quick absorbs and lock Liquids and keep your underwear dry, No odor all day long!

How does Leakproof Panties Work?
Our panties come with three layers of leak-proof protection material:
Close to skin:Comfortable Fabric Layer
We make our panties of 92% cotton and 8% spandex to give you ultimate comfort, dry, with Maximum Coverage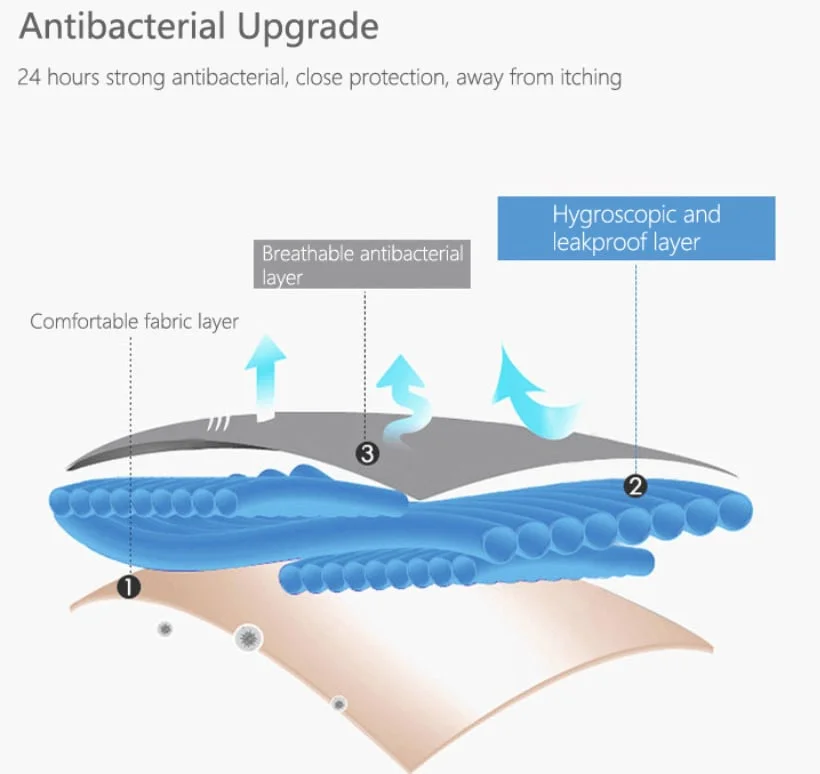 Middle:Hygroscopic and Leakproof Layer
2023 Latest development of leak-proof materials, Quick absorbs 30-50 mL of liquid and lock them in, which is equivalent to 2-3 standard tampons or pads. And keep your panties dry at all the day!
Outermost Layer:Breathable Antibacterial Layer
Panties from odor-suppressing textile that keeps all your smells from spreading.24 hours strong antibacterial, close protection, away from itching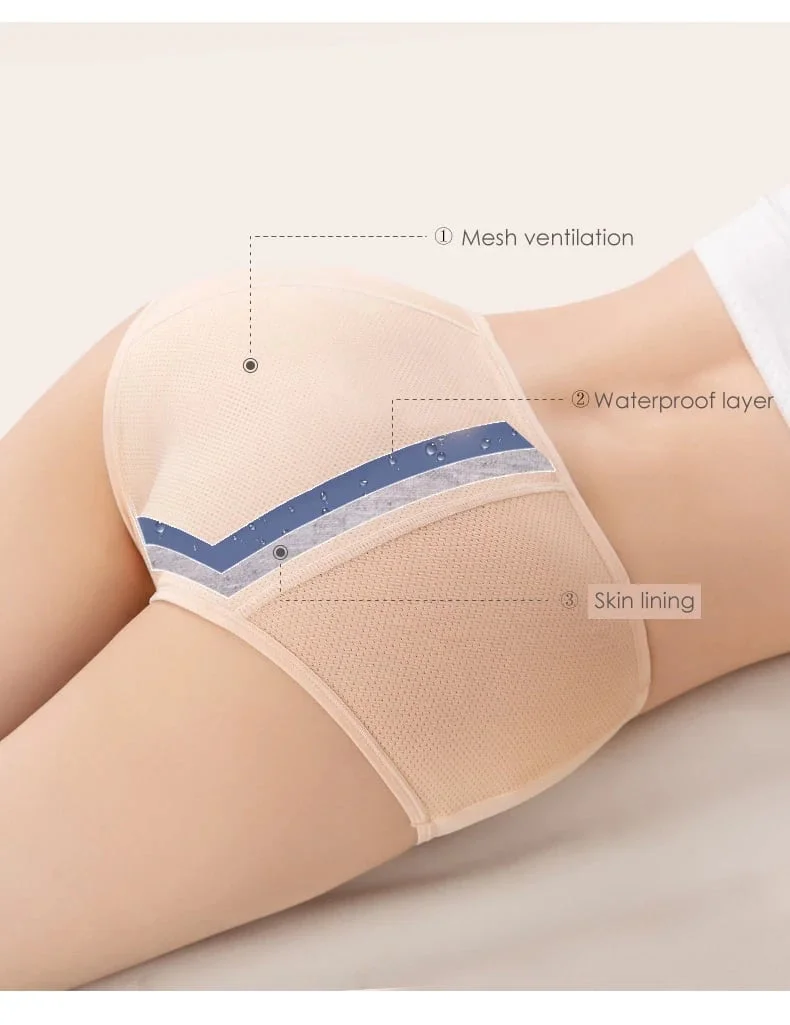 You don't need to worry about replacing your leak-proof panties because you can machine-wash them as many times as you want without losing their effectiveness.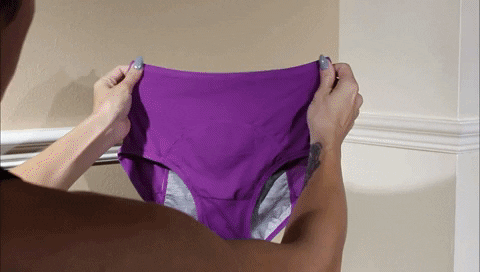 UPGRADE WIDENED DESIGN
-Leakproof in all aspects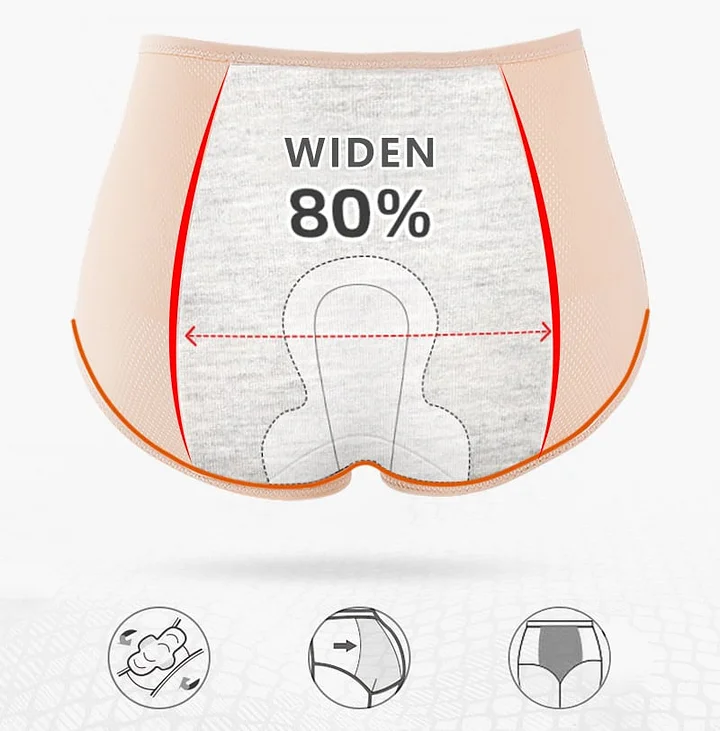 Seamless fabric that shapes the waist
The fabric is ultra comfortable and doesn't mark. It is ideal to use with any kind of clothing, even with fitter looks.
it has a high waist that in addition to not crolling, shapes the waist and values your curves.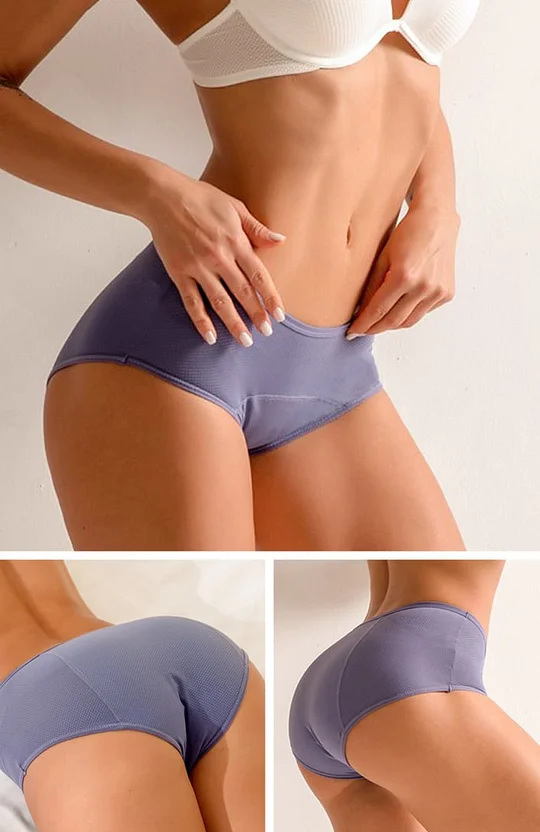 The most user-friendly design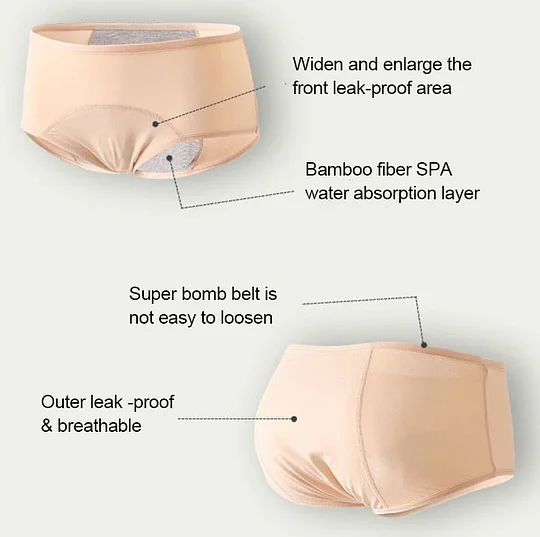 High elasticity not tight
Good resilience & comfortable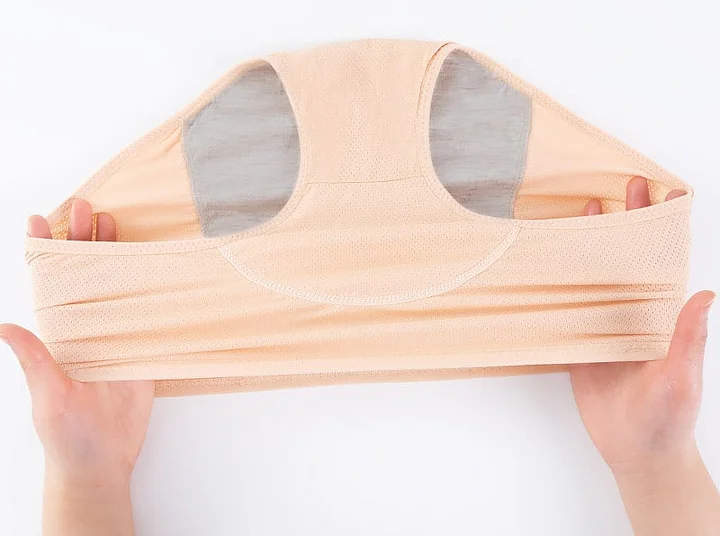 soft cuffs
The double-wire binding is more durable, soft and elastic, and will not strangle the skin.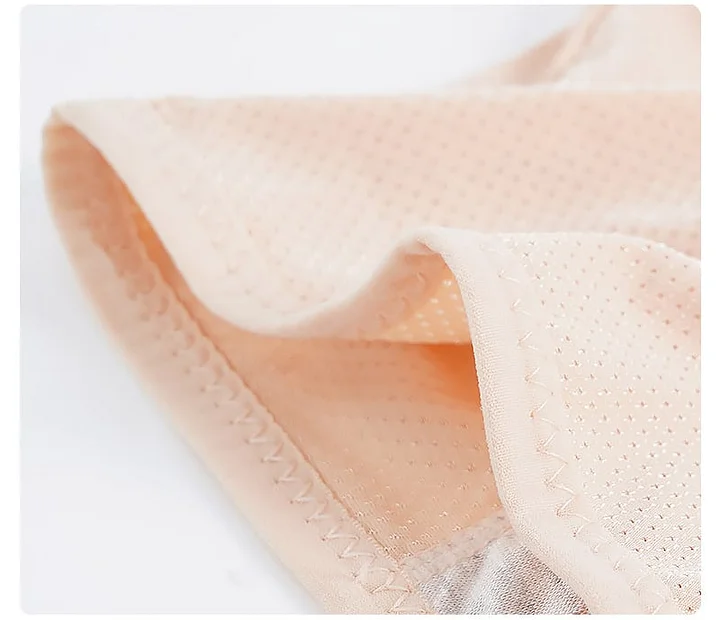 Breathable Elastic
We add 5% spandex to 95% bamboo fiber to make the fabric more flexible and always comfortable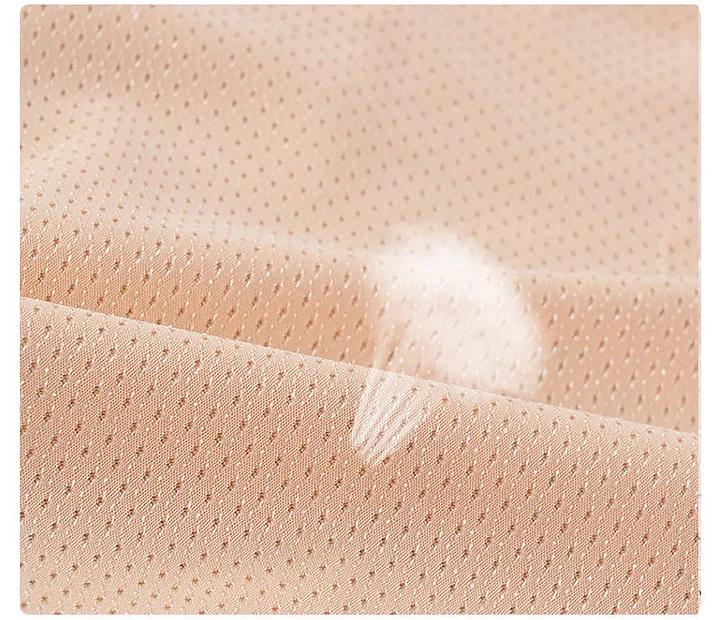 Plant printing and dyeing are healthier
Skin-friendly, soft and multi-color optional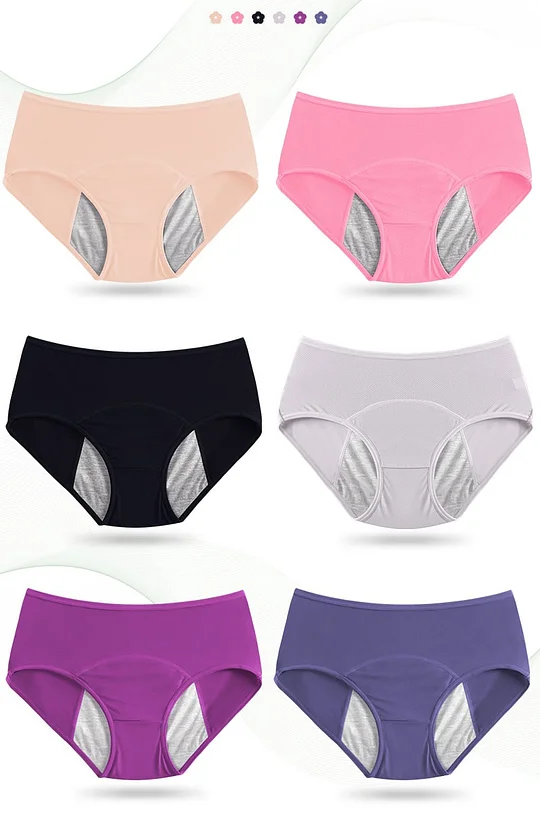 SAVE THE PLANET. SAVE MONEY TOO.
Pads and tampons and applicators are the 5th most common plastic found floating in our oceans - that's so deadly for marine life. Most women will use as many as 11,000 disposable menstrual pads and tampons in their lifetime! Over 12 billion tampons and pads are thrown out, 90% of those are made from plastic that cannot be broken down. It takes roughly 600 years for a tampon or pad to degrade in a landfill.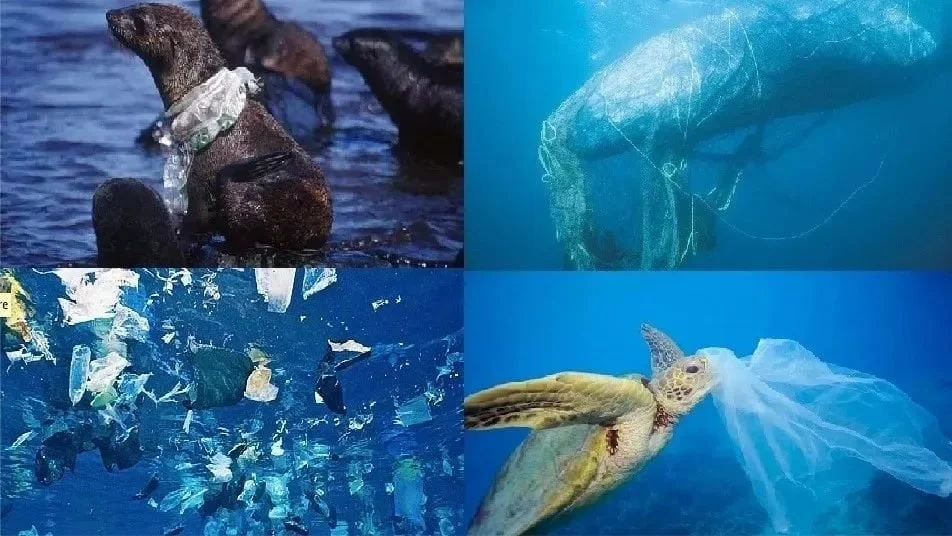 Our leakproof underwear lasts an average of 3 years which means you're personally eliminating thousands of unnecessarily tossed pads or tampons. Best part? You're saving a bundle of money .
100% Private Shipping
We will keep the package private to protect your privacy 100%, in a sense, only you know what you have purchased
Shipping & Delivery

All personalized items require 1-2 weeks for production at this time.

Our turnaround time is only an estimation, never a guarantee due to the unforeseen intake of orders at any given hour of the day. These items are truly handmade by our staff and take a lot of time and care to perfect. Once your item is completed, inspected and packaged, an automated email will be sent to you containing tracking information.

Standard Shipping is sent through USPS First Class Mail.
Expedited Shipping is sent through DHL or FedEx (whichever is faster.)

Expedited shipping does not include expedited production since the product has to go through manufacturing. Expedited orders are prioritized and are first in line for production.

The Process:

After you place your order, you will receive a confirmation email. You will have 24 hours to to make any changes or cancellations to your order. No changes can be made once production has started.

After the 24 hour processing time, we will update you every step of the way via email. You will receive an email when: we have finished designing your item, once production has started, once we start quality testing, and once your items are ready to be packed & shipped.

You can check the status of your items at anytime with our Tracking Page!
When your package has shipped, you will receive another email with the shipping confirmation email and a tracking number to follow your package as it makes its way to you!

Notice: Sheinlover reserves the right to ship orders combined or individually.


Shipping Rates:

All domestic shipments are free above $40. If you select expedited shipping at checkout then you may be charged for more. Domestic shipments are normally shipped and tracked through USPS.


Estimated time for delivery: Be advised that many factors contribute to delivery time. We will be sure to ship orders out within the time frames that are listed on each product's page. Personalized & handmade items take approximately 2 to 3 weeks for delivery. Once an order has been shipped, please allow 2 to 3 business days for arrival.

International

Standard International shipments are shipped with the most economic methods available based on location. The average delivery time for standard international orders is roughly 3-4 weeks for personalized items. Expedited Shipping options are also available at checkout. (DHL & FedEx)

Please contact us with questions or concerns at yysocu@outlook.com



Packaging

Sheinlover accessories come tucked into an aesthetic box—perfect for gifting. You may also choose to add a Gift Bag to your order.

Shipping Insurance

Sheinlover is not liable for lost, damaged, or stolen items. You may add Shipping Protection to ensure your items are insured.
Finish

All Sheinlover accessories are available in silver, gold, and rose gold plated finishes. 14K Solid Gold is available on our most popular items (with an 18K gold chain).

Material

Made from 316L surgical stainless steel
18K Gold and Rose Gold metal plating
Designed to never fade, rust, tarnish, corrode, or stain
Hypoallergenic, nickel-free casted material
Will not turn skin green

Rub a dub dub, no Jewelry in the tub!
Harmful chemicals they contain could also do a number on your personalized Jewelry. Too much sudsing in the shower while wearing your personalized necklace, bracelet, or rings can cause a film to form over the precious metal, dulling the sheen and diminishing its gorgeous shine.
Makeup first, then accessories
Lotions, hairspray, and some cosmetics contain chemicals that can be harmful to your Jewelry. It is always best to apply your makeup first and then put on your Jewelry in order to minimize exposure that can be damaging.
Take it off before you sweat it off
Make sure to remove your Jewelry before all intense physical activity. This will protect it from reacting to the chemicals in your sweat or from any damage that may occur in contact sports.
Jewelry and pools don't mix
Pools and jacuzzis are full of chlorine that, if exposed for too long, can cause your Jewelry to discolor . So play it safe: When you're stripping down into your bathing suit, take off your Jewelry too.
Don't clean with the gleam
Harmful chemicals and Jewelry don't mix. The chemicals in cleaning products can be harmful to the quality and longevity of your precious Jewelry pieces.
Be smart about safekeeping
Properly storing your Jewelry will do wonders for keeping it looking new. Keep your customized Jewelry in a box where it won't get tangled up with other items or damaged from too much movement.