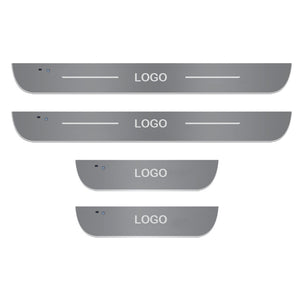 Customization Wiring-Free LED Car Door Lights(Other Models)
Regular price
Sale price
$35.99
---
please send an email or communicate through online customer service to customize it.
Get Your Exclusive Car Led Door Sill Protector Now to Improve Safety Even when You Enter and Exit Your Car in the Dark. the Fully Automated Led Display Provides a New, Elegant Look for Your Car and Effectively Reduces Wear and Tear and Scratches on Your Car.

 1: Wiring-free, Easy to Install
2: USB Charging, Available for 3 Months
3: the Pedal is Made of Magnet Suction Magnet Design, Directly Adsorbed on the Threshold. Easy to Take out Charging
4: On the Bottom of the Door Stick a Magnet Piece, for the Induction Switch
5: 7 Colors Can Be Switched at Will Through the Button
FEATURES:
Acrylic Mirror: Decorative and Protective Two-in-one, Bright Led Lamp Beads Provide You with Enough Light, Allowing You to Enter and Exit the Vehicle in the Dark Also Improve the Safety Factor.
Monochrome/colorful Atmosphere: breathe+always Bright Light Effect
Exclusive Original Car Logo: laser Engraved Logo, clear and Transparent,it Will Provides Your Car with a Brand New and Elegant Appearance.
Compression and Wear Resistance: waterproof, Anti-corrosion, Anti-wear,not Easy to Deform, effective Protection Threshold
Magnetic Induction: open the Door and Turn On/close the Door and Turn Off,will Not Affect the Normal Opening and Closing of the Door
USB Charging: Upgraded Wireless Led Car Door Still Sticker, power Saving and Low Consumption Distribution Charging Cable
Waterproof Design: Sealed Design Protection to Prevent Rain and Dust from Entering the Interior of the Lamp Body
SPECIFICATIONS:
Name: Projection Lamp
Voltage: Rated 12V
Size: Front door (9.8 * 1.7 inches) / Back door (21.6 * 1.7 inches) 
Waterproof rating: IP67
Light Source: Full LED light source
Scope of Application: Universal
Material: Acrylic + High brightness LED
Current: Less than 0.5A
Mode: Dual-mode (streamer/breathing)
Color: Single color/seven color mode (blue & green & ice blue & yellow & purple & white & red)
INSTALLATION:
Step 1: Test the led threshold to see if it is working properly

Step 2: Determine the mounting location and clean it so it is dry
Step 3: Connect the positive and negative wires to the power supply of the door switch sensor. (The red wire is connected to the positive pole and the black wire is connected to the negative pole
Step 4: Peel off the 3M tape on the back of the door sill pedal and secure the door sill pedal to the installation location
Step 5: Organize the wires and the installation is complete